1.English III (R, H, AP)
2.Math: Algebra II, Pre-Calculus, Calculus AB (R, H)
3.Marine Science II Honors
4.Physics (H) (Elective)
5.American History (H, AP)
6.Research 3 Honors (GIS)
7.Research 4 Honors (Marine Affairs)
GPA less than 3.0
1.English III (H, AP)
2.Math: Algebra II, Pre-Calculas, Calculus (R, H)
3.American History (H, AP)
4.Marine Science II (H)
5.Physics (H) (Elective)
6.Research 2 (Oceanic Research) (H ,Mg) [can be replaced by Marine Service 4&5]
7.Elective
Field Trips
Miami Seaquarium
Marine Magnet students get to go behind the scenes of Miami seaquarium to learn about how the animals live and perform in captivity. Students observe trainers in action with marine mammals. They are then able to watch the shows at the seaquarium featuring the animals they learned about earlier in the day

Biscayne Bay

Students arrive at Biscayne Bay National Park where they acquire their snorkeling gear and board the boat to go snorkeling on Shark Reef. The students then observe the behavior of the fish and the habitat in which they live.

We're set to Snorkel!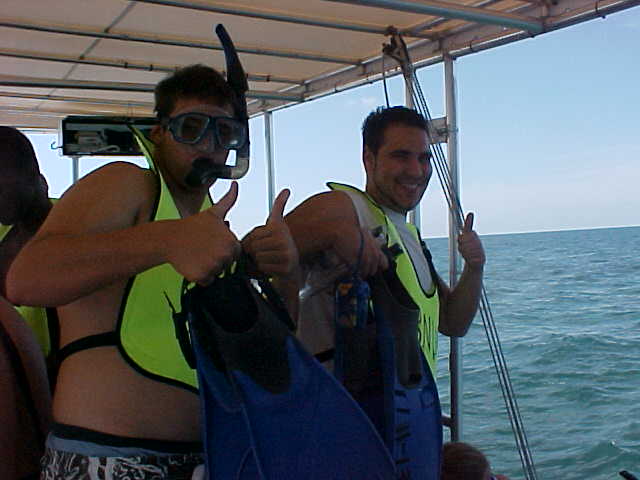 FAU GIS Lab
The Marine Magnet GIS dual enrollment students are invited to participate in a special program designed by FAU graduate students in the Geological Sciences Department. The Magnet students work with the graduate students to determine the best route for emergency response teams in the wake of a simulated flood. They learn how to use GIS maps to make decisions regarding disaster relief.
Everglades National Park
Everglades National Park is the largest subtropical wilderness in the United States. Here students are able to see rare and endangered species, such as the American crocodile, Florida panther, and West Indian manatee. It has been designated an International Biosphere Reserve, a World Heritage Site, and a Wetland of International Importance, in recognition of its significance to all the people of the world.